DG Walker Trophy 2020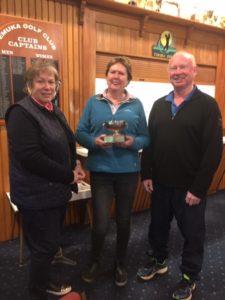 On Sunday 12 July 2020, fifteen pairs played a Canadian Foursome.  The winners were Ali Talbot and Steve Stewart 82-22-60;  followed by Margaret and Russell Dale 84-18.5-65.5;   Jenny and Graham Bolitho 89-23-66;   Rae and Hans Winkelman 81-15-66;  Faye and Brian Mulvey 93-24.5-68.5;  Pam Taylor and Jim Sinclair 86-17.5-68.5;  Mens Stableford, Ian Cooper 35.   Nearest to Pin No. 9 Pip O'Connell ande No. 12 Ian Cooper.
Photo shows Club President Willy Powell with Ali Talbot and Steve Stewart.
You can share this story by using your social accounts: