Ladies Championship Finals Results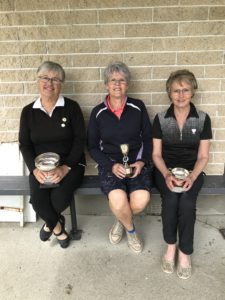 From Left: Renee Jones (Bronze B), Frances Mulvey (Silver), Jenny Bolitho (Bronze A)
Ladies Championship Finals
The Temuka Women's Championship Silver grade was an evenly contested match between Frances Mulvey and Sharon Patrick. Frances started off well and was 2 up after 9. Frances got to 5 up after 15 with a great shot just past the pin. Sharon came back with a good par on 16 and won 17, score 3 up after 18. Second 18 Frances went to 5 up again after 21 holes but Sharon had 2 good pars on 5 & 6 and winning 7 to cut the lead. The last nine was pretty even with Sharon putting well and Frances struggling. Sharon took the lead on hole 16 with a great scrambling par. Frances had to win 17 to keep the match going and under a bit of pressure hit her 3rd shot just past the pin to make a par and win the hole on the 36th hole both on the green for four. Frances had a longer putt which she duly holed and Sharon not to be out done did the same, on to the 37th. Frances had 3 good shots to land just short of the green whereas Sharon went wayward and had trouble recovering. Frances went on to win the hole and the championship in a very entertaining match.
The Bronze A championship was played between Jenny Bolitho and Lynn Stratford. Both players got off to a steady start with Lynn being 1up after the first nine. With the lead changing often, Jenny was 2up after 18 holes. Both players were evenly matched with drives and fairway shots, Lynn playing an amazing second shot onto the green on number 8 to set up an easy par. Chipping and putting became the crucial shots during the entire match. Maintaining a 1up lead after 27 holes, Jenny played steady golf and won on the 33rd Hole 5 and 3.
The Bronze B Grade was played between Karen Kelley & Renee Jones. Karen was playing her first championship final and was facing Renee , a 4 times previous winner. However Karen was undaunted and with youth, enthusiasm and determination on her side was up to the task and Renee knew she would have a game on her hands and as all golfers know you can take nothing for granted. And it turned out that way. The game went to the 18th hole with each player taking the lead at different times. Karen started very well and was 2 up after 3 holes with some excellent play and great putting, however Renee came back and levelled and was 1 up at the turn. The next few holes were crucial and with 3 holes to go Renee was dormi but Karen fought back to win the next hole and the game was to be decided on the par 5 18th. Renee managed to win the hole with a 7 even though Karen finished with a marvellous chip in for an 8 . A fitting end to a most enjoyable day.
You can share this story by using your social accounts: