McFarlane Trophy – Mixed Event Sunday 13 September 2020
Five teams of four players participated in the McFarlane Trophy on Sunday 13 September.   The competition was teams of four, must include at least one lady.   Three scores to count which must include one lady's score.
First with 121 points were Renee and Graham Jones with Brenda Davies and Ian Cooper.
Second were Pam Taylor, Rex Archibald, Rae and Hans Winkelman with 117.
Twos - John Donoghue.   Closest to Pin No. 9 - Hans Winkelman.
Han raffle tickets are again selling - 10 draws for $20.   First - Xmas Ham valued at $60, 2nd $10 bar voucher, 3rd $5 bar voucher.
If you wish to keep your last year's number please see either Steve Mackle or Rae Winkelman pronto.  Thanks.
Thanks to all for your continued support.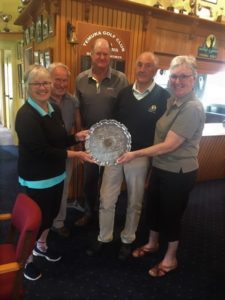 You can share this story by using your social accounts: