McFarlane Trophy Sunday 16 June 2019
Sunday 16th Jue 2019
11 mixed teams of 4 played for the McFarlane Trophy, a stableford competition where best 3 out of 4 scores count.  There must be at least one  lady in the team and a lady's  score must count on each hole. Teams varied with some teams having 2 ladies and some having one lady.
1st  - FAAD  116 pts  (Frances Mulvey, Ants Etti, Dennis Teahen and Andrew McDonald)
2nd Runners Up - The Family 115 pts   ( L & J Whitley & S & D Patrick)
3rd equal, - Laugh a Lot 112 & What's Happening 112
5th - Hopefuls 111,
6th - Imports  110,
7th equal -  Pom Poms & Stewpots 109
Photo shows Ants Etti, Jan Davenport (Life Member who presented the trophy to the winnnig team), Frances Mulvey, Andrew McDonald and Dennis Teahen.
Twos - J. Sinclair, D McLachlan, W Hobbs
Nearest to Pin - Steve Mackle (No. 9)
The Social Club thanks all for their continued suppport.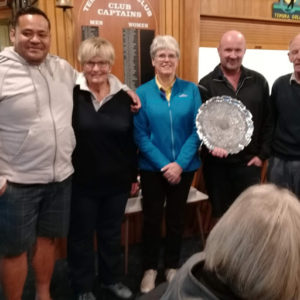 You can share this story by using your social accounts: